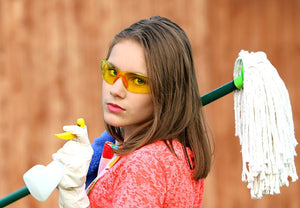 How to Clean Leather Seats Effectively
Leather is a luxurious and stylish fabric used in seats—often seen in cars and at home and office furniture. However, it is also an expensive material that requires careful maintenance.
Suppose you choose leather to be used with your restaurant furniture. In that case, you need to make sure you keep its quality high significantly because it will affect the overall ambiance of your restaurant. In this post, we will provide you with critical but straightforward advice on how you can clean leather seats with efficiency.
The first thing to remember, though, is that once you set yourself to cleaning your leather-covered furniture, you need to make sure you have enough allotted time to do it.
Image Source: Pixabay.com
Once you have set the schedule right, it is best to check these tips and tricks that you can use to successfully clean your leather seats and other leather-covered furniture.
FIRST: Always Handle with Care
Remember that leather is a pricey material. While it does increase the aesthetics of the place, it requires a particular manner of maintenance. It is not advisable to use any cleaning agent for your leather-cleaning tasks.
SECOND: Remove Surface Dirt First
Vacuuming the seats and dusting off dirt helps remove surface dirt from the leather surface you are going to clean. In addition, it helps reduce the possibility of reaping off or pressuring the leather, which will cause surface aging.
THIRD: Use the Right Cleaning Agent
Once you start cleaning, you may opt to use a commercially produced leather seat cleaner, or you may also want to try DIY cleaning options. Take note, though, that because leather is a sensitive type of fabric, you will need to use just the right amount of mix of cleaning agents.
Liquid DIY cleaning agents that have not been appropriately measured may cause more damage than aid in faster and more efficient cleaning.
When using a liquid cleaner, whether commercial leather or a DIY mixture, remember not to saturate the leather or soak it in too much solution. This will create creases that will weaken the leather and may even cause liquid to sip into the foam through the leather.
Once done, wipe the leather with a clean and dry cloth and ensure that every area has been wiped and covered.
FOUR: Do Not Put Leather Seats Out in the Sun after Cleaning
There is a notion that it is better to leave the furniture outside to dry under the sun. While this may be true for other furniture, it is not helpful for cleaning and maintaining leather-covered seats and furniture.
This practice should especially be avoided when using commercial cleaning agents that have been bought and are being used for consistent leather maintenance. The leather's exposure to the sun will cause the leather to develop surface scars, which will weaken the fabric and cause it to lose its aesthetic value. Instead, using microfiber polishing cloths is better than putting your leather out in the sun to dry.
It is best to note that wiping and cleaning your leather seat and furniture dry immediately after cleaning is critical to keeping the integrity of the leather high and protected. Effectively drying the leather will help avoid the development of moisture inside the fabric. There will be instances when you cannot remove all of the liquid you have used for cleaning. That is okay; note that when this is the case, drying the leather-covered seat and furniture out in the sun to make sure that the moisture has been cleared is not a wise option to consider.
FIVE: Dealing with a Nasty Stain
When there is a stain in the leather, a specifically designed leather cleaning agent may be more beneficial than DIY cleaning solutions. Stains are nasty agents that may ruin the appearance of the leather and create creases and cracks that will weaken the fabric.
It is best to take note of the spills and to stain dirt early on before they are absorbed into the leather.
Once the stain is there, make sure to use the suitable cleaning material that is best to use for your furniture. Again, you can test this through surface dabbing before cleaning the whole surface.
Take Note of These
These five short but essential notes on how to clean and maintain your leather seats and furniture will not only help you protect your investment in your shop, restaurant, or home's aesthetic. It will also give you the chance to enjoy your precious furniture for a much longer time.
Choosing the right cleaning agent is critical to keeping the integrity of your leather seat and other furniture in a much-controlled condition, therefore prolonging the life of your precious furniture.
---