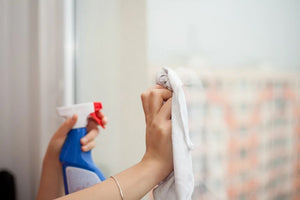 Why Your Bar and Restaurant Need to be Clean All the Time
Bars and restaurants are two of the most popular business establishments. Most bars get at several hundreds of customers every night! On the other hand, restaurants serve at least 45% of all diners who eat out multiple times a week! Because of the many people who come and go to bars and restaurants, the need to keep the environment clean is critical to improving the performance of the business while making sure that they keep everything safe for their customers. 
Besides the need to keep the establishment clean for the sake of the customers' safety, it is also a legal requirement for bars and restaurants to remain in top shape to approve their registration and business license for prolonged operation.
Image Source: Pixabay.com
In this post, several steps to keep your bar and restaurant clean is noted to make sure that everything goes well with your business:
Step #1: Wipe the Walls and Floors Down
Ensuring that every area of your bar and restaurant where there could be splashes or spills is wiped down regularly is critical in maintaining your establishment's clean and safe environment.
Once you are done using your cloth or whatever you used to wipe down the walls and floors of your bar or restaurant, make sure you clean and rinse them out properly for improved hygiene and to retain the quality of your cleaning materials.
Step #2: Clean All the Seats and Tables
Cleaning the seats and tables regularly, either every time you close or even every time a customer stops occupying it
Besides the occasional cleaning every day of operation, there should be a scheduled detailed cleaning at least once every three months. During these schedules, the establishment should be closed for operation. In addition, everything used, from the utensils to the cooking facilities, walls, floors, and even the edges that are least given attention, should be thoroughly cleaned.
 Using the proper cleaning kits and equipment to complete these scheduled detailed cleaning duties will make the process easier and more efficient.
Step #3: Take Out the Trash
Remember not to let your bar or restaurant's trash pile up in an alley.
Regularly empty the dumpsters and adequately dispose of biodegradable and non-biodegradable trash. If you have assigned a person to manage the garbage regularly, make sure that he is equipped with suitable clothing and gear to avoid any emergencies as the trash is being brought out and collected for recycling and disposal.
What to Look for When Buying Your Cleaning Materials
As noted in this post, there are many reasons why you should keep your bar and restaurant clean all the time. If you own or manage one, you definitely should keep in mind that a clean establishment is a profitable and appealing establishment. Making sure your bar and restaurant are clean all the time will help increase the number of your loyal customers, giving you a better flow of profit.
When choosing the suitable cleaning materials or equipment to use for your cleaning duties, take note of the quality and the proper use of each material. This will make it easier for you to manage the cleaning process. For example, materials are made specifically for wooden surfaces, while others are designed to clean metal surfaces.
Knowing the concentration of your cleaning solutions will also give you an idea of what personal protective gears you should use when utilizing these materials for your cleaning tasks. Read through the label and read through reviews before buying your cleaning materials to avoid any mistakes that may create unnecessary damages on your furniture, equipment, and other elements that make your bar and restaurant's interior inviting.
Reviews posted by other buyers online provide a more definite directive on whether a product is worth the buy. If you decide to buy your cleaning product online, you might check with the seller to make sure that what you are buying is exactly what you need.
Always Remember
When cleaning your bar and restaurant, you need to ensure your materials and the equipment you use keep your business within the required hygiene.
Cleanliness of your establishment as one of the priorities of business operations management will undoubtedly keep your business from incurring any violations while serving the needs of your customers and your other stakeholders at best.
Cleaning products found and bought online may have flaws that cannot be quickly resolved once already purchased. This is why it is essential to take note of first-hand examination and assurance before buying cleaning materials online. Not only will this help you buy legitimate cleaning products, but it also gives you a better take on making sure your cleaning activities are completed efficiently.
---